iBotModz CBox
View Other Content
Search Articles
Recent Articles

0
PS3
The legal action between Sony and George Hotz has come to a close, with both sides seemingly happy with the results. Sony has Hotz agreeing not to do bad things to its hardware, and Hotz gets to be left alone and continue with his life. Neither side ha...
Read story →
2 comments





Alexander "graf_chokolo" Egorenkov has his home raided by German police this past week, after Sony demanded the seizure of his PS3 hacking equipment. It has been subsequently revealed that Sony plans to sue Egorenkov for 1,000,000 euros ......
Read story →
5 comments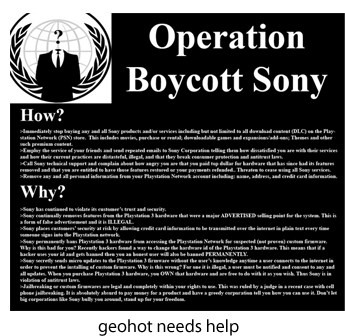 Sony are bullies Sony doesn't care if what you did was legal, if they don't like it, they sue. Sony tried to sue a guy for getting his AIBO to do non Sony approved tricks, making it apparent that they don't really care about piracy, they ca...
Read story →
2 comments