If you ever make a bad flash, do
not
worry. These bad flashes can be anything below:
System Error w/ E 54 etc.
Black Screen
Turn on then Off
Ring of Light (RoL red & green)
What you need to do is boot into Xell (by holding down the eject button to start). Xell allows you to recover NAND backups and gather your CPU key. Assuming you have a newer build of Xell, or already have a NAND backup you can create a new updflash.bin, (like you were going to use Flash360.xex to flash).
However, clear a flashdrive and format using FAT32. Then place
ONLY
your updflash.bin in there.
Unplug your Xbox 360 Power
Replug your Xbox 360 Power (cache clear)
Insert your flashdrive in the "off" state
Turn on Xbox 360 using the eject button of the disc drive.
Xell should boot.
Xell will automatically find your flashdrive, and assuming you placed the updflash.bin in the root alone. It will patch for you.
After patch is complete.
Turn on Xbox and remove flashdrive.
Restart. No more errors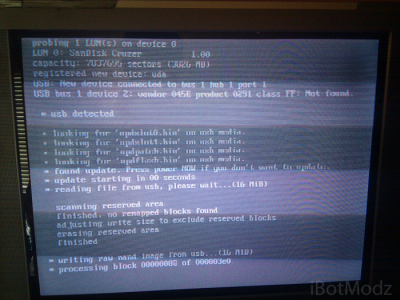 (Shows the flashdrive being detected and flashed)