So this is my first real review. Someone had better read this. Anyway, I'm going off a ten point scale, five being average, ten being God's cum, 0 being the virtual embodiment of an abortion.
In Infamous 2 you play Cole MacGrath, just like in Infamous. An Electric charged superhero or antihero depending on your choices. In Infamous (spoiler alert) you learn from Kessler that a powerful being known only as "The Beast" is going to destroy humanity. This obviously throws a wrench into Coles' plan of being a human, so he decides to stop it. (Rather big spoiler) In the first few moments of Infamous 2 The Beast appears, a bit sooner than expected. Cole charges forward to try and kill it. The battle it's self is well done, The Beast is big, 200ft tall, it's destroying buildings and people. Coles attacks don't look like they're doing much, but as the battle rages on he seems to make some progress. But he ultimately fails in his attempt, he's not strong enough yet. He runs away leaving the game with an interesting tone, reminiscent of The Empire Strikes back. He needs to get stronger, or find someone who can make him stronger.
Enter, Dr. Wolfe a scientist who can do just that. Dr. Wolfe lives in New Marais LA, New Marais is basically New Orleans. It's broken up into three districts. One that's similar to the French Quarter with street performers scattered through out the city, people snap photos of Cole as he runs by, tourists can be seen as someone who lives in New Orleans and goes to the Quarter often, they really captured it well. The second district is called Flood Town, it's essentially what New Orleans was after Katrina, toppled houses and power lines destruction everywhere and as you should have guessed, it's flooded. Which is rather interesting considering Cole dies if gets in water that's too deep. He's basically a living transformer so he shocks himself to death. The third district is an Oil processing plant, it leaves something to be desired, it's a rather generic industrial environment. There are also occasional trips into into the swamp and wetlands.
The story is largely based on choice, your actions reflect how the world views you, how the story plays out and even your appearance. Good and "Evil" choices are integrated into most missions, as well as Good and "Evil" sidemissions. Meaning that you'll have to play it twice if you want to see it all. I put evil in quotes, because I'm not sure it's evil, more Cole is an antihero, he's kind of a bastard but ultimately he's a good guy. Similar to renegade Shepard in Mass Effect. Although some of the Evil side missions are sort of evil. But Cole doesn't seem as emotionally involved this time around, especially in the plot choices. And the over all story isn't nearly as engaging or interesting as the plot in Infamous. It seems more like a power up grab than a story. And no one seems to care or even be aware that a massive creature is tearing a path straight through the eastern seaboard. The count down until the beast is in New Marais is interesting and adds a bit of weight to the situation but not enough. It's worth mentioning that your choices in Infamous will carry over into Infamous 2. In Infamous I decided to share a food drop with the people instead of keeping it for myself and my friends. In Infamous 2 a woman came up and thanked me, saying that her mother would have starved were it not for me. So your decision carry over, not as many of them as in Mass Effect but enough to be interesting.
Infamous 2 sacrificed it's narrative for combat it seems. Most of your missions have a plot point behind them, but it doesn't really come up and it seems sort of random. You fight a range of enemies from simple soldiers, to swamp monsters, to Ice soldiers and even massive monsters that chase you through the city like Godzilla.The combat is great, you can through cars, whack people with what is basically an electrified bat, summon lightning storms or massive tornadoes. You can fight vertically shooting at people from buildings or while climbing up them. Through out the game you're leveling your powers both good and evil have their own unique set. I've only played through once so I can only talk about the good powers. You get basic lightning bolts that you can upgrade to be a high powered strike or a fast machine gun. You can throw Grenades that stick to your enemies or multiply into five when you throw them. You have a missile that can be shot up and then air then you hit your target with a lightning bolt and it redirects and slams into them. Or one that splits into three and hits the nearest three enemies. (Note I'm just giving a few examples there are more to choose from) You have two combat companions. Kuo (Pronounced Quo) and Nix. They serve as the angle and devil on Coles shoulder. Kuo being the Angle and Nix being the Devil. So, Kou will accompany you on most of your Good Missions and Nix will be there on most of your Evil ones.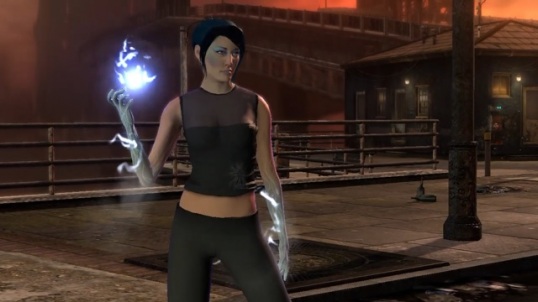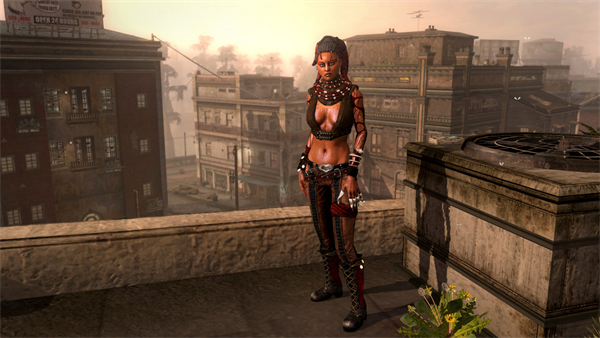 Kuo and Nix

The guys at Suckerpuch did something very interesting. They added in a mission editor. Players can create and share their own missions, I fiddled around with it a bit and I was rather proud of what I made. It's similar to forge but it's much more advanced. It lets you set AI pathing, ped behavior, lighting and even write dialog, not voiced of course. It's rather easy to use as well.
My biggest gripe with the game is definitely the end choice. Without spoiling anything, you have two options one is good one is bad. I had played through the game as a Whiteknight saving kittens in trees and the like. But at the end I wanted to make the "evil" choice. (Which is horseshit because it's the only one that guarantees the survival of humanity) But I couldn't make that choice, the game literally wouldn't let me. I was at full good Karma and to make the bad Karma choice I would have to lower my Karmatic bar from good all the way down to evil. What the ****? Design decisions like this are so deeply flawed it makes me wonder how the developers put their pants on in the morning. I'm not sure how anyone thought that was a good idea. I actually turned off my PS3 in defiance and honestly, I'm not sure I'll go back to it.
All in all, the game is good. The end game choice and lack of narrative drive is what really holds this game back from being on of the great games of this decade.
8.0
Edited by Slidell, 12 June 2011 - 11:26 PM.