As of now we have both the Team (which are the group bars that say "Owner, Members+ etc"), and the pips which are the Halo 3 ranks 1-50. I think we've grown out of the point of needing a ranking system. The first thing to debate is whether we want to keep those halo 3 ranks present in the info bar (which stretches posts) etc.
Pros for Remove
-One less hook to run
-If posts are short, they will stay short instead of the icon forcing it to be large.
-Less busy info pane
Cons for Remove
-Less interactive for post count
-The whole idea for "ranks" for post counts is eliminated
If you are confused this is the userInfoPane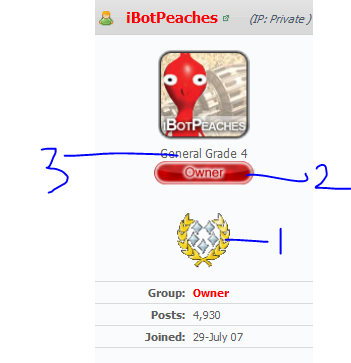 Numbers explained below
1) Pip Icon
2) Group Bar
3) Pip Icon Text
The change is chosen upon will
remove
#3.